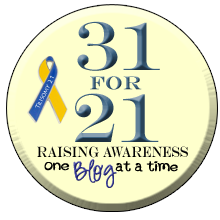 October has
ALWAYS
been my favorite month and for several reasons. It looks like I can add another reason to the list because October is also
Down Syndrome Awareness Month
! I'm participating in 31 for 21. I'm committed to writing here EVERY day in October for the sake of promoting awareness. As an advocate for Down syndrome, it's very important that I make everyone around me more aware. Moreover, I want to put to rest all the misconceptions about Down syndrome. And believe me, there are a lot of misconceptions.
Austin's surgery has been moved up, yet again. This has been quite an ordeal. The move up date is scheduled for December 3rd or December 10th? I was told one date, but it says another on paper?
*makes mental note to call and find out for sure*
Basically, Austin will receive testosterone injections monthly until his surgery. I trust his urologist and feel good about our plan.
We're now using an exercise ball for therapy. I was so excited to use the ball and just knew Austin would have so much fun during therapy. Apparently, Mommy was wrong. Austin screamed like a banshee when his therapist put him on the ball for the first time and worked with him. I was shocked because this is the same child who loves (and I mean LOVES) to be "thrown" in the air. I think he just needed to ease into it, because he did fine when I put him on it and did some exercises. I don't care how old are you, the giant exercise ball is fun.
I scheduled a photo shoot for November. We have a lovely and gifted photographer. I can't wait! Some of the shots will have a Christmas theme and I'm hoping some of these will be used for our Christmas card/picture. I wanted to wait until he could sit up on his own before doing professional pictures, but I suppose that's not so important. It's not like our photographer can't capture his cuteness because he doesn't sit on his own, right?
Well, this is my FIRST 31 for 21 post. There will be MANY more to come and I hope none of you get sick of me.
Blessings,
K