It's THAT time again, friends. Down Syndrome Awareness month will begin tomorrow. Last year, I participated in 31 FOR 21 in honor of Down Syndrome Awareness month. If you're not familiar with 31 for 21, it's basically writing a blog entry every day during the month of October to promote awareness for Down syndrome.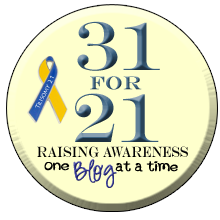 If you'd like to participate in 31 for 21, sign up
HERE.
Our life is busy, as usual. Some days are low key and then there are days where I consider it a miracle from above that we were actually able to make it out the door. If you're a parent, you understand. Austin's Speech Therapist at Our Children's House of Baylor is transferring to a different location (but still staying with the same company, just a different campus). Austin loves his Speech Therapist and responds so well to her. Therefore, we are "following" her to the new location. Austin receives Physical Therapy at Children's Medical Center. The only reason we go to Children's is because we adore and love our Physical Therapist! She is also transferring to a different location (but staying with the same company)…and we're following her too. The theme of the week is: Stalking. Thankfully, both of his therapists are okay with this.
My blog will be undergoing a serious makeover in the next few weeks. I believe I've had this design for over a year. It's definitely time for a change. I wish I had more time to brush up my HTML and design skills…maybe one day?
I keep debating whether or not I want to put Austin in
THE RISE
. Don't get me wrong, I LOVE the school. I know Austin would thrive and most of all, LEARN AND THRIVE IN A NURTURING ENVIRONMENT! He'd also be safe and I would have peace of mind. My only problem is that children with developmental delays MUST attend 5 days a week. There are not part time options with The Rise. I could always put him in a Christian Pre School 3 days a week. However, I don't know that they would be as "accepting." All the teachers at The Rise have Masters Degrees. The Teacher's aides are even required to have (at least) a Bachelor degree. Moreover, all of their degrees are related to Special Education.
Decisions, Decisions… MUST PRAY!
I'll be back tomorrow (and EVERY day this month to promote Down syndrome awareness and of course, EDUCATE! )
Blessings,
K